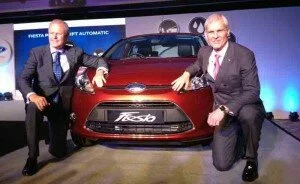 As per reveal of fresh tech news, Ford Motor Co. India unveiled the new variant Fiesta PowerShift Automatic sedan with automatic transmission in India powered by their 1.5L Duratec Ti-VCT engine.
The EPAS (Electronic Power Assist Steering) with Pull Drift Compensation technology used in the news Fiesta adjusts automatically in accordance with road surface and road condition.
Ford Fiesta Automatic features max power of 110 PS at 6,045 rpm and peak torque of 140 Nm at 4,500 rpm, new Ford does a 0-100 kmph in just 12.1 seconds.
Launching its all two variants of Ford Fiesta Automatic, Ford, the largest popular car maker in India, targeted sales expansion in this fast-growing vehicle segment.
Adding improved brake control and transmission with 6-Speed Automatic Powershift ensures the functioning in hands of driver, having full control on various terrains moving downhill or uphill.
Now the customer, who wants to get this all-new Ford Fiesta 2012, does not worry to go to workshop for maintenance for up to 10 years, because due to low friction gear lubricant used in the Powershift transmission, Fiesta is a maintenance free machine.
With featuring of 2 year / 100,000 kms warranty of engine, the transmission warranty upto 10 years / 240,000 kms, amazing cabin quietness, the multi-function LED display and automatic inward folding mirrors, it make new variants of Fiesta a convenient and friendly Electro-mechanical control car.
However such Intelligent Steering technology based new 2012 Ford Fiesta is available at market with two variants, Style – Rs 899,000 and Titanium+ – Rs 970,300.