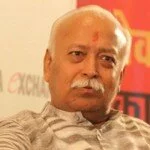 Today on the annual Vijay Dashmi day, while addressing, the RSS Chief Mohan Bhagwat hit his support in favour of BJP president Nitin Gadkari, refusing to comment on any charges attacked by IAC activist Arvind Kejriwal against him.
"Gadkari issue is BJP's internal matter, we won't comment on it," RSS Bhagwat said, adding Gadkari's dubious dealings was the BJP's internal matter, so no need to interfere it.
With a Strong move against corruption, the Chief does not show any relief on government over corruption and assuring RSS backing for those groups fighting illicit practices for corruption free India.
"There is a demand for a strong Lokpal to fight corruption. It is not being done. There are some movements against corruption and our cadres are supporting it," Bhagwat told reporters.
Under Kejriwal-led India Against Corruption allegations, Gadkari's business dealings were totally covered under corruptions as Congress and BJP both were red handed. He also claimed fresh allegations against Gadkari that around 80 per cent of the shares in Gadkari's cooperative were owned by a few companies, reports said.
IAC member Prashant Bhushan also demanded Gadkari to be charged under the Prevention of Corruption Act in charge of misusing his office as a PWD Minister to benefited company that gave him a loan of Rs 164 crore.
Meanwhile, Government came into a decision to hit out a full probe against Gadkari on allegations of dubious funding for Purti Power and Sugar Ltd companies under the chair of Gadkari.