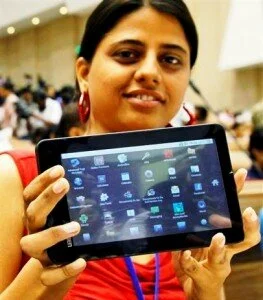 In some interesting news from Technology sector, it is said that major IT and tech firm HCL has showed their interest in the bidding for the Aakash II tablets after the governments issued an expression of interest (EoI) for it.
The declaration was made to media by a senior company official at the ISA Vision Summit 2012. He said, "HCL Info may offer its expertise in manufacturing as the demand for the tablet has reached the million mark."
Though, the Union Minister for HRD, Communications & IT, Government of India, Kapil Sibal has earlier said that the ultra-low cost Aakash tablets will soon be available for free to every Indian student.
Mr. Kapil Sibal also said in his speech that the central government will soon introduce Aakash II, the successor to the first generation Aakash tabs, which is a faster and more professional version of the Aakash that was introduced earlier.
The minister told media that the cost price of the tablet will come down to Rs 1500 from Rs 2276 as soon as the order for the device goes up from the current 1 lakh to 1 million.
Kapil Sibal said, "Today Electronics is the largest and fastest growing manufacturing industry in the world. Current global hardware production is around $ US 1.75 trillion and by 2020 it is going to grow up to $ US 2.4 trillion. On the domestic front, electronic driven industry has emerged as the contributor to national economy."
He further said, "We can develop semiconductor manufacturing in India since we have the chip design services available here and enormous high quality human resource. We should be able to leverage that to ensure that we can develop the semiconductor manufacturing sector in India."