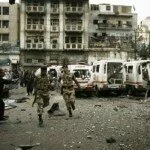 The breaking news of the hour reveal that a high intensity bomb last was exploded near Rangers Headquarters 2 situated in North Nazimabad Block B area of the metropolis.
Further, reports have said that around one Rangers personnel was killed in the blast and 13 other left injured, as said in Geo news.
Sources said that the injured rangers personnel told them that the bomb blast occurred when a car hit the gate of the headquarters.
It s said that the blast was so powerful that it smashed the glasses of Rangers Headquarters into pieces while a fire also broke out in one part of the building.
Further it is said in news that various walls of the headquarters also collapsed due to the bomb blast.
In the meantime, the rescue teams and ambulances have reached the spot and kicked off relief activities. The injured rangers personnel are being shifted to Abbasi Shaheed Hospital.
Fire brigades has also reached the site of bomb blast in Karachi and the bomb disposal squad has also been called in.
Meanwhile, the police have so far arrested one suspect from the site of the incident.