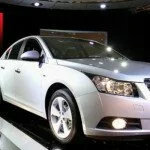 The world class car manufacturer Holden has recently announced that the company decided to recall around 9500 Australian-manufactured Cruze models after the company has found that could result to an engine fire.
In a statement issued by Holden said, "A condition had been identified where the lower air deflector, also known as the belly pan, could catch oil that might drip from the engine if an oil change were not carried out properly."
Reports have said that if oil makes contact with hot engine parts such as the exhaust manifold or catalytic converter, a fire may take place.
Further, the note issued by the company said, "The precautionary recall was instigated in response to a recall by General Motors in the US of certain Chevrolet Cruze models, though there have been no reported cases of engine compartment fires in Australia or New Zealand due to this condition."
Holden said, "The recall affected about 9547 Cruze vehicles in Australia fitted with a 1.4-litre petrol engine and the company was contacting customers directly to arrange for a free modification of the lower air deflector under the engine."
Talking to media, Craig Porritt, head of company's director of warranty, customer satisfaction and quality, said the company's first motive is safety.
Further, Craig Porritt said, "We believe Australia's high standards in servicing procedures significantly reduce the risk of improper oil changes which almost eliminates the risk of a thermal incident."
According to him, "However we will always err on the side of caution when it comes to initiating safety recalls and campaigns."