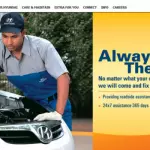 India's second largest leading automaker Hyundai Motor India Limited (HMIL) is now going to become the No.1 to launch an online service website for its customers.
Indian subsidiary of the South Korean company will offer online services to all the Hyundai buyers that will make possible through Hyundai's corporate website, the company recently announced.
"We feel proud to introduce a first-of-its-kind service, which will bring value-added services to customers. Hyundai always illustrates the idea of providing more to its customers with new innovations, experiences and values beyond their expectations. This initiative will streamline and enhance the after-sales services for our customers", HMIL sales & marketing director Arvind Saxena told media persons.
The latest micro site that become Hyundai No.1 to launch online services will offer personalized services like service and insurance calculators, on-line service booking, historic service details, nearest service station locator, including other major informative services relating to customers, warranty guidelines, maintenance tips.
It is for the first time that Automaker Company introduced a micro website that seeks to fulfill Hyundai car owners' expectations by facilitates quick services, boosting the company – customer relationship and ultimately being differentiate itself from other car companies.
Providing the guidance regarding safety driving, according to source, the automaker's customers will be in touch with the all the upcoming promotional and value added services such as schemes and discounts an attempt to fully stand on modern buyer's preferences.