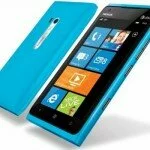 India largest, ever trusted mobile company, Nokia is all set to land its long waited the cheapest Windows Phone, Lumia 610 and the Lumia 900 in India tomorrow, citing the source familiar with this.
Announcement regarding the launch of Lumia 610 and 900 samrtphone had made by company in the month of February during the Mobile World Congress.
Where Vipul Mehrotra, director and head of smart devices, Nokia India told reporters, "Nokia will be launching Windows operating system based smartphone Lumia 610 and Lumia 900 in July end or by Mid-August in India."
Finally the day has come as it set for tomorrow when Nokia's two flagship device running on Windows Phone Tango operating system 7.5 will be launched in New Delhi.
Reports said, Lumia 900 will feature with 4.3-inch AMOLED ClearBlack glass touchscreen, 8-megapixel camera and a secondary camera in the front of. The flagship device will come with a single core 1.4 GHz Qualcomm processor, 512 MB RAM and 16 GB memory and has all day battery life with 8 hours talk time.
The second one, Lumia 610 which is also called an affordable smartphone will sport a Qualcomm Snapdragon single core processor at 800 MHz, 256 MB RAM and 8 GB memory.
Having a 3.7 inch display touch screen, Lumia 610 model that has already launched in specific Asian countries, will have a 5 megapixel camera and preinstalled Nokia apps such as Nokia Music, Maps, Drive.
Interested users can get this cheapest smartphone in four colours options – White, Black, Magenta and Cyan at just rice of Rs 11,000.
It has been said that the company is likely to promote the new Batman film The Dark Knight Rises in way to sport Batman-branding.