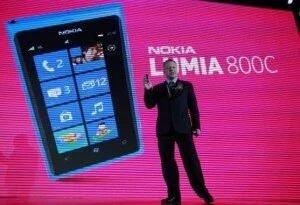 The world most trusted phone maker Nokia would enter in lucrative market of China next month with selling its new line of Lumia phones 800C, Nokia's first Lumia phone, relevant announcement made on Wednesday.
Nokia's lifetime buyer, China, the world's largest mobile operators market with 126 million customers will begin selling the first CDMA Windows Phone Nokia Lumia 800C in April while least expensive using the Windows operating system smartphone, Nokia Lumia 610 launch in June.
Using CDMA wireless network technology, the Lumia 800C and 610 will greatly perform on China Telecom, enhanced the global sales opportunity for Lumia smartphones in China, along with other nations, especially target on U.S. and Latin America this year.
Nokia chief executive Stephen A. Elop introduced the new Lumia window phones line as China Telecom and Nokia integration to China Telecom services, along Wang Xiaochu, the chairman of China Telecom in Beijing.
Elop said, "Nokia plans to sell its full line of Lumia smartphones, which includes the Lumia 710, 800 and 900, in China by the end of June. Those sales could take place through China Telecom or with other operators."
Alone China, 17 % Nokia's global sale was hit in 2011, selling 65.8 million cellphones that generated $6.7 billion sales in last year.
At this time when the China's lucrative market is at peak, the introduction of the Lumia 800C, CDMA phones urges explosive boom in CDMA market of China, more than of 1% from last year. The analysis expects that this year selling of Nokia's CDMA smart phones in China will reach 60 million units.
With high speed 3G network international CDMA standards, Lumia 800C connect people across the world, providing head-turning design and the fastest way to experience Window operating stylish and ligther smartphones.
Just at rupees 3,599 renminbi ($571), Lumia 800C facilitates Apps, music, games, fastest downloading features with video on its home screen.