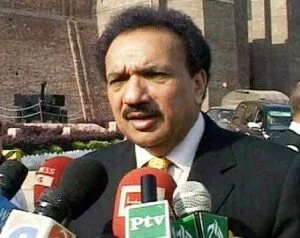 Pakistan Parliament prevent from a terrorist attack that plot in assembly during an address by President Asif Ali Zardari to a joint sitting of the National Assembly and Senate, Interior Minister Rehman Malik said today.
Malik informed Pakistan authorities arrested several terrorists along with an employee of the Foreign Ministry in connection with the plot belonged to Miranshah, the main town of North Waziristan tribal region.
Sources said, the terrorists had plans to fire rockets at the house buildings from mountains overlooking Islamabad, following which suicide attackers would storm the structures.
But Malik refused to give any details about involvement of any militant group in conspiracy. He stated that more than hundreds of security personnel had put in place of the "Red Zone", the place of Parliament as amid tight security arrangements for the joint session addressed by Zardari on March 17.
The Police Chief of Islamabad had directed to check further security of citizens, deploying helicopters to carry out aerial assistance of the city, Malik said.
This was another attempt over the Pakistan Parliament in this one month. Earlier Pakistani police declared to foil another plot by terrorists to target key buildings like Parliament and the Presidency.
Yesterday, atleast dozens of citizens have killed in Karachi caused of political violence over the murder of a Muttahida Qaumi Movement leader earlier this week.