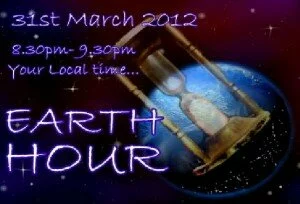 'Earth Hour' of 60 minutes, a global revolution that initialized from 2009 by World Wide Fund for Nature (WWF), hits its sixth year.
It is a world phenomenon in which many initiatives will give their share to fight with climate change by switching off lights from 8.30 pm to 9.30 pm in form to save power.
31 March is the day of 'Earth Hour' 2012 in India on which many cities will enter in dark for an hour.
Covering around135 countries, this world phenomenon is helping to create awareness about issues relating to climate change. There are many environment enthusiasts initiate this by participating in it.
Around 4000 cities participating in this move globally and amongst all Indian states, Punjab is top most. It supports it by asking all citizens to give their share in Earth Hour awareness campaign, switching off lights for one hour from 8:30pm to 9:30pm on Saturday.
WWF chairperson Punjab, Gunbir Singh said, "By switching off the lights, we will be showing solidarity towards conserving energy, and the larger cause of protecting our Nature."
According to him, Iconic monuments such as the Opera House in Sydney, Eiffel Tower in France, Christ The Redeemer Statue in Brazil, Sheik Zayed Mosque in UAE and many more shall give their part in campaign globally, go dark for one hour tomorrow.
Punjabis are always support that move that is for national welfare, and appealing Punjabis to gather for the cause, WWF said, "Punjab has seen resurgent activity during the last years and celebrated the event. The industry has also taken up the cause with local citizens in Chandigarh, Ludhiana, Jalandhar also and the mayors of these cities had publically called for the city to observe the Earth Hour."
Gather for global move, a function at Khalsa College on Saturday evening has organized to spread awareness about power safety with information of climate changing pattern. And for that students of college will hold a candlelight vigil at the building which is lit daily has in dark for one hour.
Ahmedabad will also follow the same path as like Punjab. To act the move, the founder of Astronomical and Science Club, Aley Zaveri at Ahmedabad will have organised a three/hour workshop on the importance of Earth and appeal to go with move "Earth Hour" today.
Observing the global phenomenon, he announced to support the International Earth Day that will on April 24 by organizing all sorts of events like drawing and coloring etc.