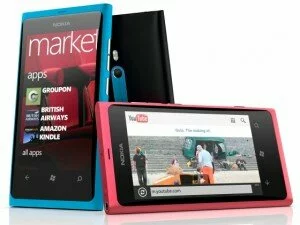 After better response given by European consumers in Nokia's first Smartphone using Microsoft's Windows Phone software, now Nokia has launched its Lumia 800 and 710 in India three days ago.
Stephen Elop, the Nokia president and CEO has got two new phones, Lumia 800 and 710, out of the lumbering giant in fewer than nine months.
However, real specification and feature of these handsets is the slew of dual SIM. There are a lot of things that Nokia did right in the dual SIM segment.
Nokia is the company which always known for its best quality, affordable price rate and high durability. Many consumers bought Indian brands because there was no Nokia option. As soon as they had one, the choice was Nokia. That is the reason of its constant demand in market.
Kunal Bajaj, director India, Analysys Mason, a telecom consultant, says, "The brand enjoys high credibility, especially at the low-end. It did the right thing by launching handsets at competitive price points. A consumer did not have to spend more, if anything at all, to switch from an Indian brand to a Nokia dual SIM."
More than two years late the company has announced seven such phones since June. It loaded the dual SIM phones with features: Ovi services and specific innovations. The result: it shipped over 18 million such phones since their launch.
During September, while Nokia's CEO interacting with Media, he said that the success of dual SIM phones had a "halo effect on our single-SIM phones. India has shown that brand plus team plus great execution can deliver strong results".
Now there is one more rival for Apple after Samsung and Sony in the Tablet market. And the question is that whether it is possible for Nokia to get back with its innovative two handsets or do the achievements in battle of tablet market.
Meanwhile, the competition is going to be tough for Nokia and actual thing to be know that can Nokia's Lumia has ability to attract the customer and win market share in the iPhone era.