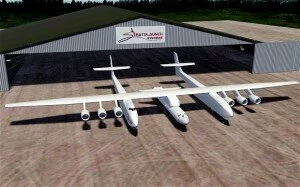 The largest Microsoft Corporation is always known for its best services, is the world biggest software company.
Now Paul Allen, the co-founder of Microsoft Corp is planning to launch a spaceship that is like an unmanned rocket in replace of the Space Shuttle.
However, Paul Allen who is 58 years old listed the world's 57th-richest person with a fortune of $13.2 billion by a Forbes-Magazine.
The major innovative plan of Allen is to built a plane that help to put government and commercial satellites into space and evolve to human space missions.
This idea comes after the United States retired the Space Shuttle program. The builder of this spaceship will be SpaceX, a private space company, created by Elon Musk and integrated by Dynetics, the missile specialists
According to report, Allen's spaceship will be a massive carrier aircraft powered by six jumbo jet engines, constructed by Scaled Composites.Its wingspan will be about 385 feet, bigger than a football field and 70 per cent longer than the wings of a Boeing 747.
While asking about project cost Allen did not answer properly but estimated the cost would be $200 million or more, than the $20 million budgeted first manned space flight in 2004.
Talking about his plan to Media, Allen said, "I have long dreamed about taking the next big step in private space flight to offer a flexible, orbital space delivery system."
Moreover, in 2015, the company will started its first test flight with the first commercial flight the year after.