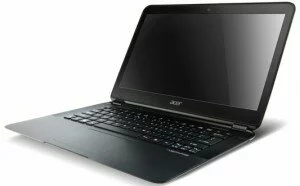 According to the latest news from the world of Technology, Acer had once again come out with the sparking new device.
By launching Aspire S5, which it reckons will also be the first Windows-based PC to feature a Thunderbolt port, Acer has unveiled the 'world's thinnest' moniker upon an Ultrabook.
With it Acer has become the most recent company that deals 'world's thinnest' Ultrabook release which Toshiba has already made that claim.
However the Aspire S5 deals with the exhaustive features of just having 15mm its thickness, weighs less than 1.4kg and gear up with a 13.3in display, just like its predecessor, the Aspire S3. (more…)