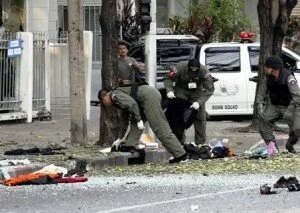 The biggest breaking of the evening is that three explosions in the Thai capital have left the city in a state of panic today afternoon.
Further, reports have said that around five people were seriously injured when a man [may be Iranian] carrying a grenade exploded.
Talking to media about the blasts in the city, Thai Police officials said that the wounded man is thought to be an Iranian.
In a photo uploaded on social networking site Twitter reveals the wounded man who lay on a sidewalk after the bomb balst.