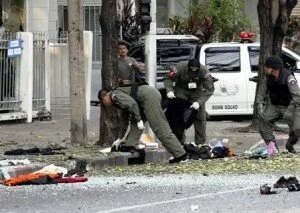 The biggest breaking of the evening is that three explosions in the Thai capital have left the city in a state of panic today afternoon.
Further, reports have said that around five people were seriously injured when a man [may be Iranian] carrying a grenade exploded.
Talking to media about the blasts in the city, Thai Police officials said that the wounded man is thought to be an Iranian.
In a photo uploaded on social networking site Twitter reveals the wounded man who lay on a sidewalk after the bomb balst.
Moreover, it was said in news that he is the man who was carrying exploded blowing off one of his legs.
While talking to media, an Thai Police official said, "He was admitted to Bangkok's Chulalongkorn Hospital for emergency treatment."
On the other hand, a Thai TV news channel said in its report that a taxi driver saying the man had then thrown a bomb in front of his car before running off, injuring him slightly.
Tagged as: Bangkok, Blast in Bangkok, Explosives, Featured, Hezbollah, Iran, Israel, NTN, Thai Police, Thailand, World

Published by Himmat Mehra in: World
If you like this blog please take a second from your precious time and subscribe to my rss feed!