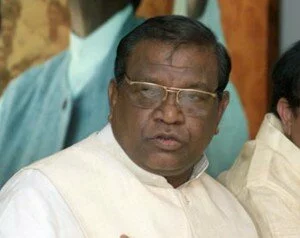 Delivering its order to former BJP president Bangaru Laxman, convicted for accepting Rs one lakh bribe in the 2001 fake arms deal case, the Delhi court sentenced 4-year rigorous jail term and Rs one lakh fine.
"Time to shun sab chalta hai syndrome", the court said in its judgement while Bangaru was into judicial custody for serving the sentence.
The defence lawyer said that the former BJP president, still a member of the BJP's national executive will challenge the order appealing in the High Court.
Earlier this day, Laxman had requested the court to give relaxation in punishment, sought leniency due to his poor health. "I have health problems as I have undergone bypass surgery twice and suffering from diabetes. I have never been involved in any such case before. So, I should be given the minimum sentence," seeking leniency in graft case, Laxman requested court in his plea.
However, CBI in favour to deliver maximum punishment sentence of five years for former president, while the politician asked to give minimum punishment of six months due to having health problems because of Laxman's has undergone bypass surgery in twice.
Pressuring the court to be dealt severely as like various Supreme Court judgments on corruption, the CBI prosecutor Padmini Singh said, "CBI has been able to prove the case against Bangaru so we want maximum punishment for him under Section 9 of the Prevention of Corruption Act."
In his 40 years political career, Laxman, moreover, having top ministry profile had no case such like this and no civil or criminal case has been lodged against him.
But on Friday, 72 years old minister was convicted under Section 9 of the Prevention of Corruption Act with bribery guilty in the fake arms deal case, permitting the defence ministry to award them a contract to supply thermal binoculars to the Army.
After arrest in charge of "taking gratification, for exercise of personal influence with public servant", he held in custody in Tihar Jail and one day later produced before Special CBI Judge.