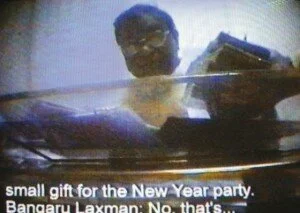 In yet session of verbal war between Bharatiya Janata Party and Congress, BJP always attacking on Congress party members with blame of corruption, but now this time BJP is being embarrassed while its one former president Bangaru Laxman was convicted today in graft case.
Mr. Laxman, a former Union minister was officially declared guilty of the offence of accepting Rs. one lakh as bribe from a fake arms dealer in a fictitious deal eleven years ago.
"The CBI has been able to establish the case of accepting Rs. one lakh bribe against Bangaru Laxman. Accused Bangaru Laxman stands convicted for the offence under Section 9 (taking gratification for exercise of personal influence with public servant) of the Prevention of Corruption Act," the court said.
Additional Sessions Judge Kanwal Jeet Arora's conviction was made with proof of a video clip that caught in a sting operation. In this clip, Mr. Laxman was seeing on camera accepting money in his chamber in the party headquarters from fake arm dealer to recommend to the Defence Ministry to award them a contract to supply thermal binoculars to the Army.
Even the plea for bail of Mr. Laxman has rejected by court, saying "after sentence only, I will consider the aspect of bail."
Source said, after competition of all norms, Police took Laxman to Tihar Jail for custody. He is likely to stay there for one day.
Tomorrow at 10:30 am, he will be presented in the court for hearing arguments on the quantum of sentence.