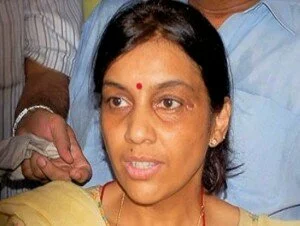 In the 14-year-old Aarushi murder case, Aarushi's mother Nupur Talwar is always kept herself aside form the hearing by not attending it.
Her absence resulted the non-bailable warrant issued against her by the Special CBI Court and today the Supreme Court asked her to approach the trial judge for bail after surrendering on Monday before the trial court in Ghaziabad.
The court refused to give any stay on her arrest warrant in the double murder case of her daughter Aarushi and domestic help, Hemraj four years ago on the intervening night of May 16-17, 2008 at her Noida residence.
Directing surrender order, the apex court said, ""We are not inclined to stay the operation of the order of NBW issued by the Special Judge, Ghaziabad. But we direct that petitioner (Nupur Talwar) will appear on Monday and move her bail. In case application for bail is moved, the same shall be considered expeditiously."
The arrest warrant has been issued against Mrs. Talwar after Ghaziabad special CBI court issued NBW warrant on April 11 following the directions of the special CBI against Nupur for failing to appear before the court.
Talwar Family had approached both the Allahabad High Court and the Supreme Court to get any relief, but they denied her relief from arrest.
Nupur requested court to give time limit assurance, but refusing her plea for granting protection against any arrest the bench saying that "only trial court would consider the bail plea".
However, at the end of hearing, the probing agency assured on directions of bench that Nupur's arrest would made after the hearing of her plea in the apex court.