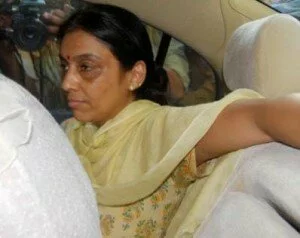 Being spend a second night in Barrack No. 13, Nupur Talwar who is accused of Asrushi-Hemraj, double murder case, has decided to sit on a fast at Dasna Jail in Ghaziabad.
Her fast will continue till the apex court decides her bail. As per report, after passing second night in jail, Nupur woke up early at 5:30 this morning, starting her fast after a session of yoga and reciting couplets of the Hanuman Chalisa.
The jail superintendent told reporters, "Since the intent of her fast is religious and not of protest, we have not objected to it."
Her second day in jail was filled with hurdles for herself as she had cabbage potatoes, dal, chapati and rice in her dinner. It has said that after finishing dinner, she watched television to keep a tab on news channels covering the murder trial of her daughter.
Earlier a Ghaziabad court reserved its decision on her plea for rejection of NBW against her on Tuesday. As per saying a bench of justice, if order is in her favour, then he will reverse the decision of Judge Preeti Singh, who has ordered the Talwars to stand trial for the double murder of their only child Aarushi that was found dead in her bedroom at the Talwars' apartment in Noida, a Delhi suburb, in May 2008 and murder of domestic help, Hemraj whose body was discovered on the Talwars' roof later few hours.
Nupur was taken into custody and sent to the Dasna jail after she surrendered herself before a court as per its order. Her interim bail plea was rejected by the special court on Monday and posted the application for regular bail for hearing on Tuesday.
After the proceeding, Nupur was taken by women constables in a police van to Dasna jail, where she spent two nights. Her husband Rajesh had earlier spent 50 days in the same jail after his arrest in the case, while his bail is on till 7 May.
At one time, in December 2010, CBI asked for granting permission to close its file report, because of lack of enough evidence to charge anyone with the murders of Aarushi and Hemraj and agency itself has said that it does not have enough proof against her.