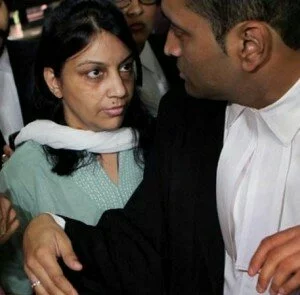 It is very important day for dentist Nupur Talwar, an accused in the murder of her daughter Aarushi and domestic help Hemraj, as her trail began after being surrendered before the court with her application.
An order for bail plea of Nupur who spent one night in Ghaziabad's Dasna jail, has reserved by a special court on Wednesday after hearing the argument from both side of Nuput's lawyers and those of the Central Bureau of Investigation (CBI).
The defence lawyer asked for rejecting the arrest warrant against Nupur as she could not have been involved in Aarushi-Hemraj double murder case as tests showed that the parents were under tremendous shock after their daughter's death.
Rajesh Talwar, Nupur's husband who was come with her in the court and accused in the murder of their teenaged daughter Aarushi, also appealed in the court and said, "I am an educated man. I am a well-known dentist."
During argumentum, defence also pointed on the CBI's first report which was filed in 2008 and said that CBI has changed its hypothesis, while agency itself has said that it does not have enough proof against her.
Appealing for granting an interim bail, defence lawyer said that if Nupur is jailed it would harm her reputation; therefore the bail should be granted till the time proper hearing of bail application was done.
On Monday, dentist Nupur sent to judicial custody after the court rejected her interim bail application following opposition from the investigating agency. She was sent to the Dasna jail and spent Monday night there.
On the opposition side, CBI argued for rejecting her plea as she is trying to delay court's proceedings in the case that is objectionable. The agency also said that the magistrate court could not grant the bail as the Allahabad High Court and even the Supreme Court have already heard the plea.
The Ghaziabad court earlier had issued a non-bailable warrant against Nupur Talwar due to her absence during trials and after that a special CBI court had extended the NBW date till April 30. Still Nupur's plea against a non-bailable warrant is pending in the Supreme Court.