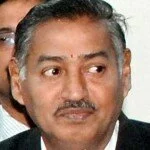 In a twist of CBI investigation, A Special CBI Judge of Andhra Pradesh, T. Pattabhirama Rao has suspended on Thursday on order of the High Court Chief Justice Madan Lokur, being accused along with his son in bribe for bail to G Janardhana Reddy in the Obulapuram Mining Company (OMC) illegal mining case.
Registering an FIR against him, his son and five others, the High Court directed a CBI probe against him and he asked not to leave the city till the completion of inquiry.
The HC suspension order slapped over Rao on corruption and bribery charges when CBI filed a complaint from Registrar General (Vigilance), along with "proof" of bank lockers "belonging to the judge's relatives where the money was kept", source reported.
CBI source said that after carrying a search of the locker following a source-based input, around Rs.1.80 crore in cash was recovered from a bank locker.
Reddy who is in Bangalore jail in another illegal mining case, granted bail on 12 May by CBI Judge Rao when case transferred to him from the Principal Court presided by A. Pullaiah.
Rs.15 crore bribes had been demanded by Mr. Rao for the grant of bail to Reddy, but after bargaining for payment of Rs.5 crore the deal was fixed for Rs.10 crore. Rs.3 crore had delivered in advance before the judgment and later the balance was to be paid.
Source said that CBI while investigating has collected the bribe amount from two lockers of a bank deposited in the name of his son. One of relative of Reddy, Rayalaseema region's Minister and a retired district judge from Guntur, said to be involved with the Rao.
Moreover, before proceeding, the Chief Justice took into confidence. Rao's suspension will be forward till a complete inquiry with result is not attained after following disciplinary procedure.