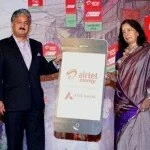 India's top mobile phone operator Bharti Airtel, earlier has charged under ED scanner for money laundering, announced its partnership with Axis Bank to offer Airtel mCommerce banking and payment services to India's customers.
Introducing its subsidiary's plan, the company said, "No-frills savings account of Axis Bank will be opened for customers on the Airtel Money platform called Airtel Money Super Account powered by Axis Bank, offering customers banking transactions, including cash deposit, money transfer and withdrawal."
Source said, IT giant Infosys is the technology innovation partner for the service.
Through this platform, the joint partners will offer micro-recurring deposits, micro-fixed deposits, small loans and micro-insurance products services, securing customer's account with financial inclusion and interest on savings.
"The all-new service acts as a no-frills bank account that comes with remittance capabilities which empower customers to send money, withdraw cash from the nearby designated Airtel Money outlets, keep money safe and even enjoy interest on savings through their mobile device," Sanjay Kapoor, chief executive officer (India and South Asia), Bharti Airtel told reporters while announcing services.