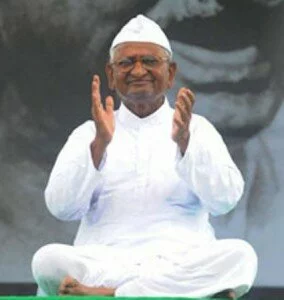 The Social Activist, Anna Hazare is coming back to start once again anti-corruption campaigning with a full force of power.
Mr. Hazare's health is now improved and he is fully fit as reportedly said on Saturday.
Mr. Hazare was suffering from persistent cough, backache and swelling on hands, feet and face and his treatment had performed at Jindal Ayurvedic hospital in Bangalore on January 31.
Before taking ayurvedic treatment, Mr. Hazare went to Medanta Medicity in Gurgaon for a thorough check-up. The doctors had advised him at least a month's rest and asked him to desist from undertaking fasts.
But now while returning to his native village Ralegan Siddhi on Saturday, he announced to resume his anti-corruption crusade and the fight for a strong Lokpal.
Despite saying about his future course of action, Mr. Hazare only confined, "I am fully fit and ready to fight now."
However much improvement has been seen in his health as noticed by his restored power, putting on a strict diet included various types of juices, millet and barley water.
As per doctors who supervising him, declared him a completely healthy person whose health and blood pressure, both has been normal.
Meanwhile Mr. Hazare is fit and coming back along with his strong Lokpal anti-corruption crusade with a great force of power, motivation and strength.
It is expected that this time anti-corruption campaign would be more powerful as encouraging activists to start once again the fight for a clean image of nation by removing corrupts through a strong Lokpal.