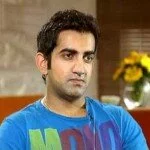 The skipper of the Kolkata Knight Riders, Gautam Gambhir has recently said in an interview that he is ready to take the responsibility of captaincy of the Indian test side.
When asked by media, if he is ready for the job, the cricketer said, "Absolutely, it is the biggest honour. I am ready for it. Ready for the responsibility of the challenge because you want to take different challenges as well. That's where your mental toughness and character will be tested."
Further, Gambhir said, "I have heard of talks (of being made India captain) but as I have said a captain is as good as the team. It's a successful team that makes a successful captain and not that a successful captain makes a successful team."
Meanwhile, he has played 48 Tests and 134 ODIs for the country in his 8-year cricket career.
Gautam Gambhir said, "I am a very insecure guy as far as my profession is concerned and my insecurity is far more than my security. Even now, to be honest. That's how I played my cricket starting from my Under-14 days, everyone told me if I don't score runs I will be dropped. Since I started playing cricket I have considered every game I played my last game. Even at this stage, if I don't score runs in two or three games I start feeling that I am going to be dropped. That has gone so much inside my system that I have started living with it."
He also told media that he do not enjoy much cricket, he said, "I don't enjoy, to be honest, too much of cricket. For me cricket is something which is my priority. I want to get there and get the best result. Whenever I led a side I have always tried that my players feel secure. Till the time the team is enjoying I am happy with that."
The cricketer also admitted that sometimes he crossed the spirit of the game and has learnt from his mistakes.
He said, "I used to show a lot of emotion on a cricket field but I have mellowed with age. There were situations when I crossed the line. I remember that incident with Shane Watson (when he elbowed the Australian) and after that I apologised to everyone. I have matured and learnt from those mistakes. Life is all about learning from mistakes."