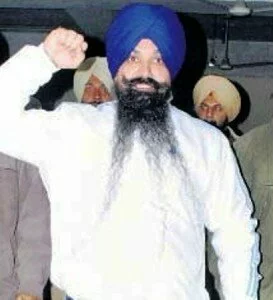 As per fresh reports, Balwant Singh Rajoana, who is in Patiala jail and was considered as main accused in assassination of former Punjab Chief Minister Beant Singh has written a letter to the Akal Takht.
Reports have said that latter says that there was no need for anyone to seek clemency for him. Balwant Singh Rajoana also denied accepting any kindness from the BJP, Capt Amarinder Singh or from late CM Beant Singhs family members.
Rajoana handed over the latter to his sister, Kamadeep Kaur, and she gave the latter to Akal Takht.
The latter said, "I have fought for my rights all through my life. I do not want to give away my principles for anyone."
Balwant Singh Rajoana criticized all the political parties in his latter, especially the Akali Dal. He writes, "I neither trusted them (Akalis) nor believe them as they have failed to get justice from New Delhi. These leaders were mum till date and suddenly they are speaking for my clemency. All know how they have made money and what their reality is. The Akalis should give away blue turbans and instead don khaki turbans for failing to get justice from New Delhi time and again."
Further, the Babbar Khalsa international terrorist, Balwant Singh Rajoana refused to accept any sympathy from the BJP, Capt Amarinder Singh or from late CM Beant Singhs family members. He said in his latter, "Asking for mercy from them is not even in my distant dreams."
On the other hand, the Patiala Jail officials have once again returned the death warrants for Rajoana to the Chandigarh court. However, the final hearing on this case is expected to hear today.
Much tension has been notice in the Chandigarh court when the Patiala jail superintendent filed a petition strongly challenging the execution warrants.
The CBI rejected the application saying that the jail superintendent has no right and is not a capable authority to challenge the death sentence.