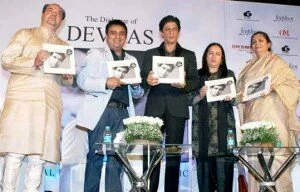 The King Khan of Bollywood Shah Rukh Khan has recently said that now feels he was a fool to try and step into the shoes of Dilip Kumar.
He was talking to media about the iconic character of Devdas in a 2002 remake
Meanwhile, Dilip Kumar had played the role of Devdas in 1955 and the film was directed by Bimal Roy.
Superstar Shahrukh was talking to media after launching the book The Dialogue of Devdas, "I was a fool to say I will do Devdas, I feel I shouldn't have done it. I have a very deep regard for the fact that my parents loved Devdas. I was young and it was very stupid of me to do it. But I had the blessings of Dilip Sahib."
Further talking to media, the actor said, "As I am getting mature, hopefully more intelligent, I would have not been able to do it at this point of time….I think Devdas did great for me. It was made so beautifully that whoever would have done it would have looked good."
Moreover, the book also features the complete dialogue of Bimal Roy's film, and was written by Rajinder Singh Bedi.
While replying to a question that whether he tried to copy Dilip Kumar, ShahRukh said, "You can't imitate Dilip sahib. No one can dare copy him and whoever does so, are idiots like me."
Shahrukh said, "Like every Indian mother, my mother also thought I look like Dilip Kumar…only a mother can say this. I cannot become like Dilip sahib and can't even think of it. But now I feel at least her soul would be a bit at rest with my presence here."