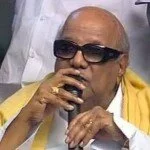 Time is not good for UPA government as after the Trinamool Congress Chief Mamata Banerjee's protest on the issue of hike petrol price, next hit by a key rally The Dravida Munnetra Kazhagam party.
Threatening UPA to quit as nine years old key ally, DMK former Tamil Nadu chief minister, M Karunanidhi on Wednesday warned that, the party had never hesitated to pull out so earlier unless the "atrocious" petrol price hike was not completely rollback.
Leading the party protests, Karunanidhi stated in a statement in front of a big gathering, "For us being part of the coalition at the Centre has not stopped us from protesting against anti-people policies. If our basic principles are threatened, we would persuade the Centre to rectify it."
"We will insist and stay with them only till it is possible. If they do not heed we will come away separately to press our principles. If the price hike is not withdrawn, there will be many more agitations," he further said repeating their leader's sentiments on the issue.
The 88-year-old Karunanidhi is leading the state-wide march in a protest at Saidapet against the unexpected fuel price increase and increasing bus fares and milk prices.
However, the Centre has promised to reduce VAT on petroleum products, providing relief to people. Minister of state in the PMO V Narayanasamy told reporters, "The states can lower the VAT and that can help reduce the petrol price."
Despite it, Karunanidhi also demanded the Jayalalithaa government to lower the sales tax on petrol, source reports suggested that he further said that he was disappointed from not just opposition parties or UPA constituents but even Congress leader and Defence Minister A.K. Antony who had expressed dissent over the petrol price hike.
Meanwhile, demonstration of Karunanidhi in the protest is not the alone that stand against UPA, while Uttar Pradesh Samajwadi Party and BJD in Odisha also announced a State-wide bandh on May 31 in wake to immediate rollback.