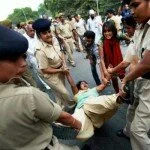 Reports have said that supports of Arvind Kejriwla and India Against Corruption were detained on Sunday after they clashed with Delhi Police.
It is said that IAC workers were trying to enter into Haryana Chief Minister Bhupinder Hooda's residence here protesting on Robert Vadra-DLF issue.
The Delhi police used water canons to disappear the protesters. Police said that the protesters were stopped on Pandit Pant Marg near Mr. Hooda's residence.
However, Kejriwal or any other top leaders from the IAC were not present in the protest. Most of them were from Haryana's IAC wing. They were assembled near Gol Dakhana and marched towards Mr. Hooda's residence, where police had put up barricades
At first, police tried to stop the protesters but they demand to go to Hooda's residence so police used water canons to disperse them.
In an interview, Arvind Kejriwal said, "This is the way government is reacting to a peaceful protest, which is a Constitutional right. They are brutally attacking people which is completely unacceptable in a democracy."
He said, "How can a government treat its people like this?"
IAC leader Arvind Kejriwal had alleged a nexus between Haryana Government, DLF and Robert Vadra over land deals which was denied by them.