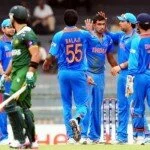 The Indian cricket team has lost their opening match of Super Eight group against Australia by 9 wickets yesterday. And now, if India wants to be in the race of ICC World Twenty20 title, they have won their next match.
An interestingly, India will face arch-rivals Pakistan in their next match of ICC World Twenty20 at Colombo, Sri Lanka on 30 September, Sunday.
Indian captain MS Dhoni used five bowlers strategy against England, and won the match by 90 runs, but same strategy did not worked against Australia, as Australian all-rounder Shane Waston and David Warner played superb cricket.
However, Indian captain MS Dhoni later said in interview that short spell of rain was the reason they lost the match. But, none of the Indian bowler looked in control against Australia.
On the other hand, Pakistan has become a strong side, their batting is good, and bowlers are doing their job perfectly. It will not be an easy task for India to beat Pakistan this time.
Pakistani batsman like Imran Nazir, Nasir Jamshed and Mohammad Hafeez can take the charge of Indian spin attack. Umar Gul played good cricket in tha last match against South Africa.
Talking to media, cricketer Suresh Raina said, "For me I think Virender Sehwag can be very dangerous. I hope he'll play the next two games. I think it won't be easy to play the next two games without him."
Pakistani bowler Umar Gul said, "When we play India there is lot of pressure because our people always want us to win. The same is the case in India, so there will be pressure on both teams."
The Squads:
India
Mahendra Singh Dhoni (capt; wk), Gautam Gambhir, Ravichandran Ashwin, Lakshmipathy Balaji, Piyush Chawla, Ashok Dinda, Harbhajan Singh, Zaheer Khan, Virat Kohli, Irfan Pathan, Suresh Raina, Virender Sehwag, Rohit Sharma, Manoj Tiwary, Yuvraj Singh.
Pakistan
Mohammad Hafeez (capt.), Imran Nazir, Kamran Akmal (wk), Shahid Afridi, Shoaib Malik, Nasir Jamshed, Saeed Ajmal, Sohail Tanvir, Umar Akmal, Umar Gul, Yasir Arafat, Abdul Razzaq, Mohammad Sami, Asad Shafiq, Raza Hasan.