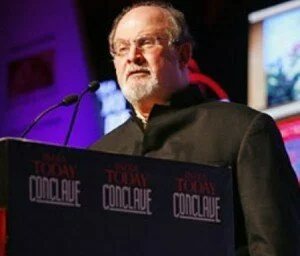 A Controversial author Salman Rushdie on Saturday attacked Congress to block his presence just because of "useless electoral calculations."
Targeting Rahul Gandhi, he said blocking his presence in Jaipur Literary Festival did not work "led to the debacle" of Congress in Uttar Pradesh Assembly elections.
During participation in Literacy session in India Today Conclave, the renewed author said the India "deserves to be led by better leaders than is being now".
As per controversial author's theme 'Liberty versus: I am what I am and that's all that I am', the culture of "offendedness is growing" in India.
Attaching it to the two months ago controversy that forced him to skip Jaipur Literary Festival, Rushdie said, "Indian electorate is smarter than these politicians. People can be whipped as in Jaipur Literary Festival."
Two months ago, Rushdie had left the Jaipur Literary Festival because of strong protested by fundamentalist Muslim groups against for his book 'The Satanic Verses'.
"What happened there is not Deobandi bigotry. It was pretty useless electoral calculations. It did not work, Rahul (Gandhi)," through a massive flow of fire speaking about the violent issue to which 95 per cent of Muslims are not interested in.
Jammu and Kashmir Omar Abdullah and Uttar Pradesh Akhilesh along with Pakistan's cricketer-turned-politician Imran Khan were refused to attend the concluding session as they reported to the presence of Rushdie.
While asking about inability of them to attend the conclave, he said, "Some politicians suddenly discovered that they had ridiculously overcrowded schedule."
Disappointed from Imran who is ready to discuss the immeasurable hurt caused by the terrorists LeT, but demonized a book "The Satanic Versus" written 24 years back.
He is happy for getting normal reaction from Indian with his come back in India after two months' huge assertion on his presence, but as per him there is something abnormal that danger is growing.