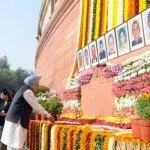 In the year 2001, heavily armed Pakistan-based terrorist group attacked the temple of democracy of India, the Parliament in the heart of the national capital.
Eleven people had lost their lives in the attack which also includes five policemen during the attack by Parliament terrorist attack.
11-years ago on this day terrorists made an unsuccessful attempt to harm the peace of India by attacking Parliament complex.
Meanwhile, the floral tributes to the martyrs at a solemn ceremony this morning was offered by Vice President M. Hamid Ansari, Prime Minister Dr. Manmohan Singh Lok Sabha Speaker Meira Kumar, Congress President Sonia Gandhi, Leader of Opposition in the Lok Sabha and Rajya Sabha, Sushma Swaraj and Arun Jaitley, BJP leader Lal Krishna Advani and several other leaders from all the political parties.
The man who was found guilty in the crime, Mohammed Afzal Guru, was sentence death penalty by a Delhi court on December 18, 2002 after being convicted of conspiracy to attack Parliament on December 13, 2001, waging war against the country and murder.
Moreover, the Delhi High Court upheld the death penalty on Afzal Guru on October 29, 2003 and later his appeal was rejected by the Supreme Court 2-years later.
Thereafter, Mohammed Afzal Guru filed a mercy petition with the President, who forwarded it to Union Home Ministry for its comments. Home Minister Sushil Kumar Shinde said, "A decision on convict Afzal Guru's mercy petition will be taken after the current Parliament session ends."