In yet, the clamour over international long row between India-Italy, the External Affairs Ministry has on Tuesday summoned Italian
Ambassador, refusing to send back two Italian marines charged with the murder of two Kerala fishermen back to India.
According to source, issue will be taken up with that country so that the accused soldiers could be brought back to face trial here.
PM Manmohan Singh assured Kerala MPs to look into matter seriously and take the issue with Italy authorities, sources said.
Reacting over the Italy's unacceptable decision, Kerala MPs met Mr. Singh demanded to make strict and reliable action in the "serious" matter, otherwise a strong protest against Italy would be called.
Amid Opposition pressure raised on Indian government for taking lightly the Italian marines issue should not allowed them to flee.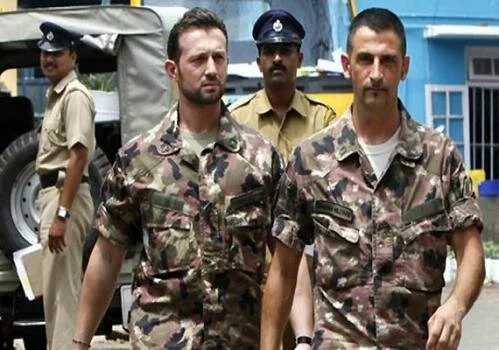 The govt much disappointed from Italy's decision said that the decision was of Supreme Court to send the marines to Italy to vote in the elections.
Moreover, now the matter has been reviewed by External Affairs Minister Salman Khurshid as directed by PM, is dealing with foreign diplomats within the framework of the established diplomatic conventions and norms.
On Monday evening, the Italian government claimed Indian authorities had always violated their obligations under international law.
Therefore it refused to send back the two marines Massimiliano Latorre and Salvatore Girone, had been allowed to go home to vote in the elections, but did not come back to India.