The Pak Interior Minister Rehman Malik has recently said in a TV interview that the Indian government must provide security to Bollywood actor Shahrukh Khan.
During his interview given to Geo TV, Malik said that the Shahrukh was born Indian and he would like to remain the same. He was sharing his views with media during a reception organized by the Indian High Commissioner Sharat Sabharwal to mark India's Republic Day.
Malik said, "He said the people of both Pakistan and India love Shah Rukh."
Further, Rehman Malik said, "Let's get together and fight against this extremism and terrorism because we are working for betterment and peace in Pakistan and India."
Earlier, the mastermind of the 26/11 Mumbai attack and Jamaat-ud Dawa (JuD) chief Hafiz Saeed had said that Shahrukh is welcome In Pakistan if he feels insecure in India.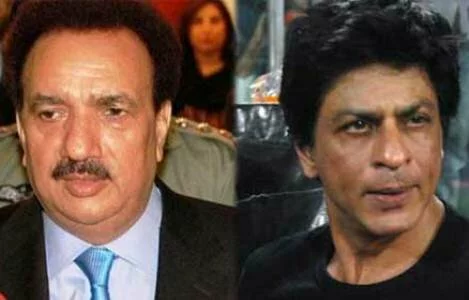 However, talking to media, Mr. Malik said, "He (Shah Rukh) is born Indian and he would like to remain Indian, but I will request the government of India (to) please provide him security. I would like to request all Indian brothers and sisters and all those who are talking in a negative way about Shah Rukh, they should know he is a movie star."
Though, Shahrukh is most popular Bollywood actor in Pakistan but he will always remain an Indian. Malik said, "I am sure all those who are talking against him or are trying to threaten him, they will withdraw their threat with this hope that the stars are loved, the stars provide love and they are like a symbol of unity."