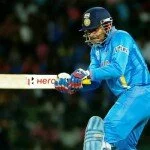 On day of 1st Test match at Sardar Patel Stadium in Motera against Engalnd, Indian captain MS Dhoni won the toss and opted to bat.
Performing with an excellent mark of partnership, Gautam Gambhir and Virender Sehwag reached India with a stand of opening of century with 120 without loss in 28 overs before lunch.
After lunch, Engaland spinner Graene Swann took his second wicket as Virender Sehwag who run out at India on top117 in Ahmedabad. Viru's wicket is second of Swann as his first over has hit India's first wicket of opening batsman Gambhir in the 30th over.
Gambhir marked first and 11th well sharing score partnership with Sehwag since scoring both as openers 137-run partnership in December 2010 in the second innings of the Centurion Test against South Africa.
Gambhir as an opener was in much pressure, but with patience and much discipline of his off-side scoring gave 45 runs off 111 deliveries with four boundaries before being bold out .
Over the tight bowling by England bowlers in the last half an hour before lunch, Sehwag completed his fifty in just 45 balls, took his time with solid hit initially, moving on against balls and marked his 33nd half-century in Test matches by pick up in 18th over a single off Swann.
Viru then rapidly hit over other bowlers with 12 boundaries and a six off in his unbeaten 79 off just 66 balls including three boundaries in Anderson's next over.
Now on place of Gambhir, CA Pujara has come for batting, being partnered with master Blaster Sachin Tendulkar in place of Sehwag. Moreover, little change has made in Indian Team that ailing Ishant Sharma and Harbhajan Singh have been out of the team, while Yuvraj Singh expectedly taking responsibility of middle irder batting of Suresh Raina's spot at No. 6, while England took debut to Nick Compton.
Team members of India: V Sehwag, G Gambhir, CA Pujara, SR Tendulkar, V Kohli, Yuvraj Singh, MS Dhoni (Captain), R Ashwin, Z Khan, UT Yadav, PP Ojha
England: AN Cook(Captain), NRD Compton, IJL Trott, KP Pietersen, IR Bell, SR Patel, MJ Prior†, SCJ Broad, TT Bresnan, GP Swann, JM Anderson