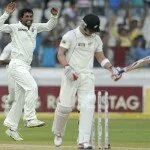 The Indian cricket team is riding on the top in the second day of the 1st test match against New Zealand played at the Rajiv Gandhi International Stadium in Uppal, Hyderabad.
India started the day with MS Dhoni [29*] and Cheteshwar Pujara [119*] . Captain Dhoni completed his 50 runs from 100 balls hitting four fours and one six.
On the other hand, Cheteshwar Pujara also made 150 runs from 279 balls hitting 18 fours and one six.
India was at 371 for 5 wickets till lunch, with Dhoni batting on 61 runs and Pujara batting on 151 runs. India later completed 400 runs in 117.6 overs with 12 extras.
India lost Pujara at 159 individual score, and MS Dhoni on 73 runs, both wickets went to JS Patel. R Ashwin played some nice shorts and made 37 runs to help India making a 438 runs all out.
New Zealand batting was not at its best as they lost four quick wickets with just 55 runs on the scoreboard. R Ashwin and Ojha did the damage.
Till the end of the second day's play, New Zealand made 106 runs in 41 overs and lost 5 wickets. R Ashwin took three wickets for 30 runs and Ojha took 2 wickets for 35 runs. New Zealand batsman JEC Franklin 31*, CFK van Wyk 0* will continue batting tomorrow.
New Zealand trail by 332 runs with 5 wickets remaining in the 1st innings
Half of the New Zealand team is back to pavilion and India has great chance to record a big win here. If India bowlers will bowl out New Zealand under 300 runs, then India can win the match.