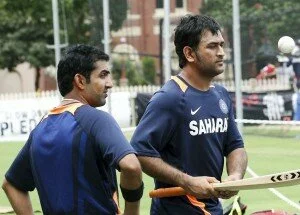 According to the latest reports from the cricket match between India and Australia, Indian captain MS Dhoni has won the toss and elected to bowl first in the only T20 match played at Stadium Australia, Sydney today.
The only T20 match between India and Australia is a day/night match.
Meanwhile, Indian captain MS Dhoni decided to play with regular opener Virender Sehwag and Gautam Gambhir. There are two regular spinners in the side—Rahul Sharma and R Ashwin.
However, there is no Sachin Tendulkar in today's T20 match. Though, official announcement will be made shortly.
From the Pitch and weather, it is said that there will be uneven bounce on this drop-in pitch. As pitch experts have said that it's overcast but no rain at the moment.
India has played 31 T20 internationals games till now and won 16 of them and lost 13. One game ended with no result.
On the other hand, Australia have won 23 games and lost 20 out of 45 T20s they played so far.
Australia team:
DA Warner, MS Wade†, TR Birt, DJ Hussey, GJ Bailey*, MR Marsh, DT Christian, JP Faulkner, GB Hogg, B Lee, XJ Doherty
India team:
G Gambhir, V Sehwag, V Kohli, RG Sharma, SK Raina, MS Dhoni*†, RA Jadeja, R Sharma, R Ashwin, R Vinay Kumar, P Kumar
Umpires BNJ Oxenford and PR Reiffel
TV umpire SD Fry
Match referee AJ Pycroft (Zimbabwe)
Reserve umpire SJ Nogajski