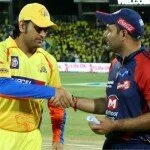 The Indian Premier League is all set to face the big match of the league so far. The two big fishes of IPL 2012 will play each other to make their ways clear to the DLF IPL 2012 finals.
Chennai Super Kings v Delhi Daredevils will play the match at MA Chidambaram Stadium, Chepauk, Chennai 25 May 2012 – day/night (20-over match).
The 2nd Qualifying Match will start at 8pm today evening and will come live on Set Max. Both the teams are equally strong and had a great IPL season so far. MS Dhoni led Chennai Super Kings is more favorite in today's match and the reason is MS Dhoni's batting performance in the last match against Mumbai Indians.
MS Dhoni cracked 51 runs from just 20 balls to take his team to a respectful total and then CSK beats MI by 38 runs.
However, Delhi Daredevils is the top rated team in the IPL 2012 and was on the top of the points table. DD skipper Virender Sehwag is a player who can change the game in 2-3 overs, Delhi is full of top class players such as David Warner, Mahela Jayawardene, Taylor and Irfan Pathan.
On the other hand, Chennai Super Kings, two times winner of the IPL, has player like MS Dhoni, Dwayne Bravo, Hussey, Suresh Raina and Albie Morkel. CSK will surely depend on their skipper MSD, who is back in form.
All-in-all, the high voltage IPL match will be played today and both the team will give their best to enter the IPL 2012 finals to play against Kolkata Knight Riders.
Chennai Super Kings squad
MS Dhoni*†, S Anirudha, R Ashwin, S Badrinath, GJ Bailey, DE Bollinger, DJ Bravo, F du Plessis, BW Hilfenhaus, MEK Hussey, RA Jadeja, SB Jakati, Joginder Sharma, S Randiv, KMDN Kulasekara, VY Mahesh, JA Morkel, A Mukund, SK Raina, WP Saha†, SB Styris, S Tyagi, K Vasudevadas, G Vignesh, M Vijay
Delhi Daredevils squad
V Sehwag*, MC Juneja, VR Aaron, AB Agarkar, P Bisht, R Bist, GH Bodi, DAJ Bracewell, U Chand, AJ Finch, DPMD Jayawardene, GJ Maxwell, M Morkel, S Nadeem, Y Nagar, PT Naik, P Negi, NV Ojha†, IK Pathan, KP Pietersen, KC Raval, AD Russell, AM Salvi, LRPL Taylor, RE van der Merwe, Y Venugopal Rao, Vikas Mishra, DA Warner, TP Yadav, UT Yadav, Zafir Patel
Umpires BR Doctrove and SJA Taufel
TV umpire BF Bowden
Match referee RS Madugalle
Reserve umpire K Srinath