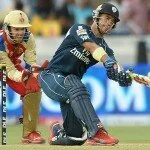 Once again Deccan Chargers destroyed the dreams of Royal Challengers Bangalore [RCB] to make their ways into playoffs, DC beats RCB by 9 runs in the Indian Premier League [IPL] match played at Rajiv Gandhi International Stadium, Uppal, Hyderabad 20 May 2012 – day/night (20-over match).
However, Chennai Super Kings [CSK] skipper MS Dhoni must be very with this win. CSK are now well into the playoffs and this happened due to the win of Deccan Chargers against Royal Challengers Bangalore in today's match and Delhi Daredevisl win over Kings XI Punbjab.
Earlier, RCB skipper Virat Kohli won the toss and elected to bowl first.
RCB was well in control but JP Duminy destroyed their plans with his hard hitting batting performance. He played a knock of 74 runs from 53 balls with four fours and five sixes.
Bating second, RCB lost early wickets and lost the match by 9 runs. Dale Steyn was the pick of the bowlers, talking 3 wickets in four overs giving just 8 runs.
Presentation:
DC skipper Sangakkara: "It was great to win. Home crowd, last match of the season … glad we won."
RCB skipper Kohli: "We could have played better shots, we did not play the right shots on that wicket. We did not get in first. My wicket probably changed the game. We just need to learn from our mistakes and come back stronger next year. The wicket was not that bad to bat on … you need to have clarity in the mind about what sort of shots to play."
Man-of-the-Match Dale Steyn: "I think we've lost games that have been so crucial. To win tonight … a last over finish, I'm very happy we pulled it off. There were a lot of emotions coming out in that final over. I was up for the challenge today and it paid off."
Deccan Chargers: S Dhawan b Khan 5 P Reddy c de Villiers b Vinay 7 K Sangakkara c Vinay b Muralitharan 15 C White c Agarwal b Parameswaran 1 J Duminy c Appanna b Khan 74 P Patel c Gayle b Vinay 16 A Ashish Reddy b Vinay 4 D Steyn not out 0Extras (B—1, LB—5, W—4) 10
Total (7 wickets; 20 overs) 132
Fall of wickets 1—6, 2—19, 3—20, 4—51, 5—122, 6—132, 7—132
Bowling Z Khan 4—0—30—2, R Vinay Kumar 4—0—22—3, P Parameswaran 3—0—12—1, M Muralitharan 4—0—30—1, H Patel 4—0—26—0, T Dilshan 1—0—6—0.
Umpires S Ravi and SJA Taufel (Australia)
TV umpire JD Cloete (South Africa)
Match referee AJ Pycroft (Zimbabwe)
Reserve umpire KN Ananthapadmanabhan