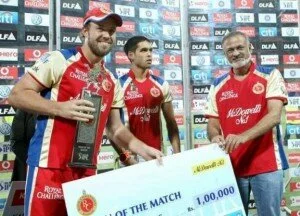 Once again it is proved that the Twenty20 format can not be predicted, the South African AB de Villiers cracked 17-balls 47 runs to power RCB to a five wickets win over the Deccan Chargers in the Indian Premier League match played at M Chinnaswamy Stadium, Bangalore 6 May 2012 – day/night (20-over match).
After the superb knock of 71 runs by Tillakaratne Dilshan, from 54 balls with eight fours and two sixes, AB de Villiers showed his power with his bat to grab the victory over DC.
Earlier, RCB skipper Virat Kohli won the toss and elected to bowl first, Deccan Chargers started their innings really well with 86 runs in the 11.5 overs, when opener Harris was run-out on 47 runs.
Shikhar Dhawan from the other end kept on playing his natural game and made 73 runs from 52 balls with ten fours and one six.
The Deccan Chargers made 181 runs in their limited 20 overs play. Batting second, RCB started well, Tillakaratne Dilshan and Chris Gayle. RCB made 91 runs in the first 10 overs, when Chris Gayle lost his wicket to Anand Rajan. Chris Gayle made 26 runs.
Chasing a target of 182 runs, AB de Villiers gave the real boost to his team to help a win over Deccan Chargers.
AB de Villiers is the Man of the Match. Talking about his performance, the South African Cricketer said, "We needed that win. The commentators spoke about our charity initiative back home, guess that is what motivated me tonight. I was actually quite scared facing him [Steyn], I know him pretty well. It does not happen every day." He was scared? What if he hadn't been?
Winning skipper of Royal Challengers Bangalore Virat Kohli said, "We wanted to win it badly, they bowled well in the middle overs, but when you have AB, anything is possible. That's one of the best finishes I have seen. Hopefully we can continue this momentum and make it to the play-offs."
Deccan Chargers skipper Sangakara said, "We made a good score, but we did not get the yorkers in. We needed to bowl good balls and make it difficult for AB, who batted unbelievably well. All you can do is trust your bowlers to do the work for you. Dale has had a great tournament, unfortunately he had a bad over today. You hold and hold until you ultimately win."
Scoreboard
Deccan Chargers: D. Harris (run out) 47 (41b, 2×4, 4×6), S. Dhawan (not out) 73 (52b, 10×4, 1×6), C. White c and b Parameswaran 45 (24b, 2×4, 3×6), K. Sangakkara (not out) 10 (3b, 1×4, 1×6); Extras (b-1, lb-2, w-3): 6; Total (for two wickets in 20 overs): 181.Fall of wickets: 1-86 (Harris), 2-168 (White).
RCB bowling: Zaheer 4-0-32-0, Mithun 3-0-33-0, Parameswaran 4-0-45-1, Muralitharan 4-0-18-0, Dilshan 1-0-17-0, Syed 3-0-27-0, Gayle 1-0-6-0.
Royal Challengers Bangalore: T. Dilshan b Veer Pratap 71 (54b, 8×4, 2×6), C. Gayle b Rajan 26 (22b, 1×4, 2×6), V. Kohli c Steyn b Mishra 9 (9b, 1×4), Asad Pathan c Steyn b Mishra 4 (4b), A.B. de Villiers 47 (17b, 5×4, 3×6), M. Agarwal lbw b Ashish Reddy 18 (6b, 1×4, 2×6), Syed Mohammed (not out) 4 (1b); Extras (lb-2, w-4): 6; Total (for five wickets in 18.5 overs): 185.
Fall of wickets: 1-91 (Gayle), 2-102 (Kohli), 3-106 (Asad Pathan), 4-117 (Dilshan), 5-143 (Agarwal).
Deccan Chargers bowling: Dhawan 1-0-11-0, Steyn 3-1-30-0, Veer Pratap 3-0-34-1, Anand Rajan 3.5-0-44-1, Ashish Reddy 4-0-36-1, Mishra 4-0-28-2.
Man of the match: A.B. de Villiers.