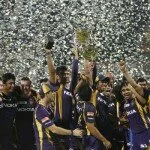 The end of DLF IPL 2012 has brought smiles on the faces of Kolkata Knight Riders after they beat two times winner Chennai Super Kings by 5 wickets in the IPL 2012 finals on Sunday.
The proud skipper of KKR Gautam Gambhir said that it was about completing a mission they had boarded upon when the tournament started 54 days back.
Talking to media after the match, Gautam Gambhir said, "There is only one word that comes to my mind. Mission accomplished. We had strong belief in our team. We knew when the big day will come the guys would deliver. I want to thank our fans back in Kolkata, who had stood by the team during tough situations. We have done it for them."
When asked about Manvinder Bisla'sblasting performance, he said, "Bisla today showed that what character is all about. I have always maintained that a captain is as good as his team. It's a successful team that makes a successful captain. When I selected Bisla, I knew that we had quality in our dressing room."
Gambhir also mentioned medium-pacer Laxmipathy Balaji who missed the final due to injury.
He said, "Bala has been the unsung hero of our team. One can't forget his contribution. When we left for the stadium, I told him that we wanted to do it for him."
Man of the match Manvinder Bisla said, "I am feeling very happy that I played my part. I replaced Brendon who is a class player. His record speaks for himself. Due to Balaji's injury, we had to leave him out, I am lucky that I got a chance. Till the last ball, it did not feel like we had made it. I don't think I have hit as well, good to play this in the finals to help win it for my team."
On the other hand, Chennai Super Kings skipper MS Dhoni felt that the pitch became better for batting in the second session.
Dhoni said, "I thought the ball started coming on slightly better in the second half. Bisla and Kallis got the partnerships KKR needed."
Dhoni didn't feel that 190 wasn't enough.
Further, MS Dhoni said, "Cricket is a game of plus ten and minus ten. It is always like that. Under the conditions, we batted well. It was a bit slower in the first innings. Batsmen did a good job. Not to forget, we could have looked for 200 and ended up with 170. Our bowlers were not getting reverse swing. Then it becomes easy for the fast bowlers to execute the wide yorkers. Still, I am happy with our performance."
Chennai Super Kings 190-3 in 20 overs (S. Raina 73, M. Hussey 54, M. Vijay 42) lost to Kolkata Knight Riders 192-5 in 19.4 overs (M. Bisla 89, J. Kallis 69; B. Hilfenhaus 2-25) by five wickets.