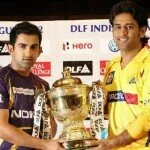 The much awaited IPL 2012 Finals will be played between the two strong teams of the season, the match will be played at MA Chidambaram Stadium, Chepauk, Chennai 27 May 2012 – day/night (20-over match).
The IPL Final 2012 will be played between Chennai Super Kings [CSK] and Kolkata Knight Riders [KKR] and both the teams have full of powerful and world class cricketers.
The IPL Final will be live on Set Max and will start from 8pm today.
Talking about Kolkata Knight Riders, the IPL 5 performance of the KKR is amazing and under Gautam Gambhir the team has improved a lot. KKR has world class players like Gambhir, Kallis, Yousaf Pathan, McCullum, Narine and Shakib Al Hasan.
On the other hand, CSK has skipper in-for MS Dhoni, the lucky captain, Suresh Raina, last match hero, Murali Vijay, Bravo and Australian cricketer Hussey. Morkel and Ravinder Jadeja will be all-rounder for CSK.
While talking to media about Chennai Super Kings, Anil Kumble, former Royal Challengers Bangalore skipper, said, "They are a champion side. Look at the individuals in the team. They have a great battery of international cricketers. All of them have a lot of experience. Yes, they were scratchy in the group stages but they have come back strongly. RCB, though, did them a favour [by not winning against Deccan Chargers]. And then in the playoffs, they literally bulldozed Mumbai Indians and Delhi Daredevils.
In the meantime, he also warned CSK skipper MS Dhoni's men against West Indian spinner Sunil Narine, who has taken 24 wickets in 14 matches at an economy rate of 5.20. "Kolkata's bowling is really good, thanks to Sunil Narine, the mystery bowler. He ties up one end, that helps the other bowlers. He is one key figure in this match. A lot rides on how he fares.
Kumble said, "In the T20 format, one individual can turn it around for a team, like Murali Vijay did against Delhi. Playing at home will also stand them [Chennai] in good stead. Their track record at home is quite good. It's a good wicket at Chennai. It's a wicket where you win toss and bat first."
Kumble also praised CSK skipper MS Dhoni and KKR skipper Gautam Gambhir for showing their sides the way. "Gautam has led from the front. He has done really well with the bat. He is second only to Chris Gayle in the run-scoring charts. That has helped him in his captaincy. He has done exceptionally well. Dhoni, we know how consistent he has been; we know what he is capable of. He has come to the party at the right time in the matches against Mumbai Indians and Delhi Daredevils. Both [CSK and KKR] are settled teams and that has been their strength."
Chennai Super Kings squad
MS Dhoni*†, S Anirudha, R Ashwin, S Badrinath, GJ Bailey, DE Bollinger, DJ Bravo, F du Plessis, BW Hilfenhaus, MEK Hussey, RA Jadeja, SB Jakati, Joginder Sharma, S Randiv, KMDN Kulasekara, VY Mahesh, JA Morkel, A Mukund, SK Raina, WP Saha†, SB Styris, S Tyagi, K Vasudevadas, G Vignesh, M Vijay
Kolkata Knight Riders squad
G Gambhir*, S Ladda, L Balaji, R Bhatia, MS Bisla, DB Das, M de Lange, BJ Haddin†, Iqbal Abdulla, CS Jani, JH Kallis, B Lee, BB McCullum†, EJG Morgan, SP Narine, YK Pathan, JL Pattinson, SV Samson, PJ Sangwan, I Saxena, Shami Ahmed, Shakib Al Hasan, LR Shukla, RN ten Doeschate, MK Tiwary, JD Unadkat
Umpires BF Bowden and SJA Taufel
TV umpire BR Doctrove
Match referee RS Madugalle
Reserve umpire K Srinivasan