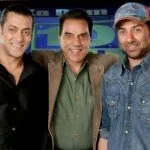 It is know to all in the industry that actor Dharmendra is a very short tempered man and known as 'Dharam Garam' in Bollywood.
Media and his millions of fans experienced it when asked to the actor about the absence of his sons Sunny Deol and Bobby Deol at daughter Esha Deol's wedding in June 2012.
It is said that it was actor Salman Khan who came into the picture at that time, and said Dharmendra that, "Don't entertain them, ignore them."
Salman is very close to Dharmendra and he asked Dharam not to pay attention to such questions.
It is known that even since Dharam ji married Hema Malini, difference between him and his first wife Parkash Kaur had started.
It was cousin Abhay Deol who was present at Eash's wedding to perform the duties of a brother, and Sunny and Babby are very less seen with Esha Deol and Hema Malini.