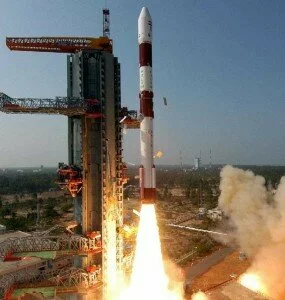 The Indian Space technology has achieved another landmark with the successful launch of RISAT-1 satellite.
On the successful launch of the satellite, the Prime Minister of India, Manmohan Singh congratulated the Indian Space Research Organisation (ISRO) on the successful launch of India's first high tech spy satellite RISAT-1 from Sriharikota
Moreover, Manmohan Singh called Secretary Department of Space and ISRO Chief Mr. K Radhakrishnan to congratulate him and the other scientists to give them best wishes on the success of satellite launch.
Talking on the success of RISAT-1 launch, Prime Minister said, "I would like to warmly congratulate all scientists of the Indian Space Research Organisation (ISRO) for the successful launch today of the Polar Satellite Launch Vehicle (PSLV)-C19 carrying the Radar Imaging Satellite -1(RISAT -1), the heaviest satellite launched till date using PSLV."
Further, he said, "The twentieth consecutive successful launch of the PSLV is an important milestone in our space programme and is testimony to ISRO's mastery of the complex launch vehicle technology."
The Prime Minister also showed his assurance that RISAT-1′s all weather, day-night imaging capability will extensively add to the country's remote sensing capabilities.
Dr. Manmohan Singh said, "The country is proud of ISRO's achievements and I wish the organisation all success in its future endeavours."
In addition, the ISRO Chief K Radhakrishnan also showed his happiness over the grand success of satellite launch.
He said, "Currently, the satellite was pointing towards earth and the process of imaging would start from May 1."
"RISAT-1 would help India and also the neighbouring countries in case of any major disaster," said Mr. Radhakrishnan.