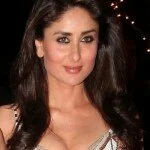 The Bollywood actress Sharmila Tagore converted to Islam when she married cricketer Mansoor Ali Khan Pataudi. She became Ayesha Sultana Khan, later shortened to Ayesha Khan.
Once again, the same situation has come for actress Kareena Kapoor, and now there is speculation on whether Kareena will convert to Islam to marry Saif Ali Khan or not.
On the other hand, people know Ayesha Khan as actress Sharmila Tagore, because that is the name she used on big screen.
Recently, reports have said that Kareena Kapoor will were Sharmila Tagore's sharara at her October 2012 wedding. In addition, there are gossips in the industry that will Kareena adopt another name like Sharmila Tagore to marry Saif Ali Khan.
But Kareena has said that she will always remains Kareena Kapoor Khan. She said, "There is no way I am dropping the Kapoor in my name."