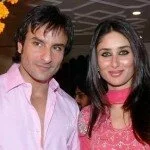 The wedding date of Saif Ali Khan and Kareena Kapoor is confirmed by Sharmila Tagore. And the other details about the wedding will be later revealed to media by close friends of the family.
However, Kareena Kapoor will keep on doing film. A source said, "Sharmilaji's best innings as an actress started after marriage. In fact Saif was a baby on the sets when Sharmilaji was doing one of her most celebrated film Aradhana. Kareena intends to follow her mom-in-law's career model. She will do two films a year after marriage. After she completes Madhur Bhandarkar's Heroine she goes straight into Sanjay Leela Bhansali's Ram Leela."
There are reports that the actress has made it clear to Sanjay Leela Bhansali that there will be no wedding leaves. The wedding is confirmed by Saif's mother and the date is 16 October 2012.
The wedding will take place at the Pataudis' ancestral home on Pataudi and the reception will be in Mumbai.
Further, a friend close to family said, "Since it's still so soon after the family patriarch Mansoor Ali Khan Pataudi passed away the entire family agreed to a low-key wedding. Kareena and her folks readily agreed to a closed family-only wedding. However a large reception after the wedding was seen to be imperative, considering both Saif and Kareena have such a vast network of friends in the film industry."
He said, "The details are now being worked out. But the honeymoon won't occur immediately. She has no intentions of letting her career slacken after marriage."
However, when asked to saif's mother Sharmila Tagore about wedding date, she said, "Yes, that's the date. Then a reception, though not a very big one."