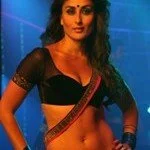 "Zero size" figured, the bollywood hottest Kareena Kapoor is one of the top selection of bollywood producers and director. Recently, Kareena is conscious on her upcoming movie "Heroine" release in which the actress is much talked about her item song "Halkat Jawani".
With a stunning and sizzling look, Bebo is looking gorgeous, for that "Heroine" Director Madhur Bhandarkar posted on Twitter: "Locked the edit of ?#HalkatJawani? today. The ?#Heroine? – ?#KareenaKapoor? is looking RAVISHING…full jalwa."
Bebo is too excited to show her "Halkat Jawani" that she has recently walked out of Sanjay Leela Bhansali's ambitious "Ram Leela", adapted from Shakespeare's Romeo and Juliet.
The buzz is on air that the chammak-challo Kareena rejected Bhansali's "Ram Leela" due to less amount of payment as she demanded and also because of date's issues.
"I walked out a week ago. I had allotted 100 days for the shooting in August as per contract but Mr Bhansali wanted more days to shoot," she said.
Recently, Kareena is the first choice of bollywood and it proves by her busy schedule with a couple of big banner projects, out of one is of Karan Johar production and another is of Prakash Jha's "Rajneeti" sequel.
One reason to walk out from Bansali's project is to allot dates to KJo's protege, which is most important for her.
Latest buzz over Jha's political sequel is that Kareena will perform a role of Indian Prime Minister, while last time Katrina Kaif playing the role of a politician in "Rajneeti" and well appraised by audience. It said that Ajay Devgan stressed Jha to signed Bebo for this film which seemed to be started in this year ending.
In the list of No.1 heroine, Kareena is on top floor, being first selection for film. Moreover, still the actress is just ready to set the release of her "Heroine" which is always being in controversy with one another reasons.