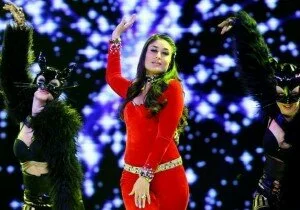 There would be double spark for cricket lovers as well as Bollywood lovers during the opening ceremony of DLF IPL 2012 this year.
It is said in reports that most demanding and talented actress Kareena Kapoor action-packed audiences at the YMCA College of Physical Education Nandanam in Chennai on April 3.
Moreover, the actress is known for her energetic screen and stage performances. With her superb sense of style, Kareena has made herself as a youth icon.
Further, the super icon of Bollywood Amitabh Bachchan and dancing star Prabhudeva will be present there at the opening ceremony. Bollywood actress Priyanka Chopra and Dabangg Salman Khan will also perform and from the melodic Colonial Cousins to Katy Perry – the Opening Nite has it all
Kareena Kapoor includes her own brand of ebullience to this all-star group, and will make this an unforgettable moment as well as the mind-blowing way to kick-off the huge cricket event.
All nine team captains of the IPL will be there to take the MCC Spirit of Cricket pledge at the opening ceremony of DLF IPL 2012, reaffirming the values in IPL's pledge to the spirit of cricket, which has been on display since the competition's inception in 2008.