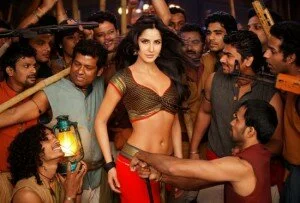 Today, success factor of Bollywood for actress is performing item numbers.
And higher number of clones your effort spawns is being a peak successive point of Bollywood carrier.
However the releasing date of "Agneepath" is of 26 January ,but work of Bollywood copycats are being started as several me-too attempts of Katrina Kaif as Chikni Chameli.
Shweta Bhardwaj's item song Chaalis Chauraasi and Veena Malik's are of 'Chhanno' are two songs that resembled and copying the Katrina's moves.
First off the block is Shweta Bhardwaj as the item girl in Chaalis Chauraasi. Shweta's item dance, 'Setting Zhalla', has the Bollywood wanna be jiggling her booty in a plunging red choli and traditional white Maharashtrian kashtha saree that amply defines her midriff – a la Katrina in 'Chikni Chameli'.
Shweta Bhardwaj's dance in Chaalis Chauraasi jiggling her booty in a plunging red choli and traditional white Maharashtrian kashtha saree, adds a dash of traditional lavni to the raunchy filmy steps just as we have seen in Katrina's number.
The starting of song Chaalis Chauraasi was almost around the same as Katrina's 'Chikni Chameli'.
Beside this, the queen of controversy Veena Malik is also in this route. Veena begins her Bollywood carrier as an item dancer performing in a song 'Chhanno' in Rumy Jafry's Gali Gali Chor Hai, starring Akshaye Khanna, Shriya Saran and Mugdha Godse.
Although the song is yet to air on the small screen but reveal there is an uncanny resemblance of Veena's dance to that of Katrina. As Katrina, Veena is wearing a cleavage-revealing embellished choli and a garish lehanga and also surrounded by a bunch of men who look like thugs.
Meanwhile the main thing is to see that whose performance could make the highest audience attention and attract them to come and waste money on their performance but only Katrina could have been the 'Chikni Chameli' that has also accepted by Ganesh Acharya, who has Choreographed 'Chikni Chameli' song.