Indian classical musician Ravi Shankar, who introduced Indian classical music to the World, but passed away on December 11 last year after undergoing a heart surgery, has been awarded with Best World Music award at Grammys.
Late Ravi Shankar was arguably the best contemporary Indian musician.
The sitar virtuoso, Late Ravi Shankar, ambassador of Indian music as well as friend of The Beatles, who died in December at 92, won best world music album for The Living Room Sessions Part 1.
However, his daughter, Anoushka Shankar, accepted the award on his behalf.
Late sitar virtuoso player and composer was also a nominee for her album Traveller.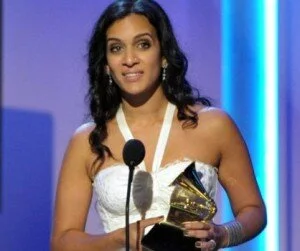 Further, a lifetime achievement award was given to Late Ravi Shankar at The Recording Academy's Special Merit Awards celebration on Saturday.
However, it is said in news that just few days before his death, Ravi Shankar learned that he would receive the honor and that he and his daughter were both nominated in the world music category.
Singer-pianist Norah Jones, Shankar's daughter, and Anoushka Shankar accepted their father's lifetime achievement award Saturday afternoon.