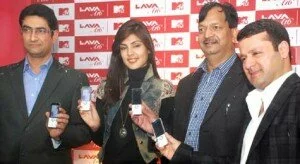 After Nokia, Lava Mobile Company that is known for its Smartphone manufacturing has launched its unbreakable series phone A16. This handset has been launched with television channel MTV.
This phone has really impact on the youth because of its style and attractive design.
The price range is also in budget that is of Rs 4,000-5,000. The company said that it will launch another product in association with MTV by the end of the next quarter.
From a report, the chief marketing officer of Lava mobile, Sunil Raina, told IANS, "As a strategy, the phone is targeted to capture the fast-growing youth market. This is a niche phone product for us,"
The Lava's unbreakable series phone A16 has been manufactured by setting up the facility at a cost of $4.5 million in China, not in India.
It has been cleared by Raina in his report, "The software component has been sourced from India, but the physical structure and styling has been developed at our R&D centre in China in a period of seven months,"
However A16 is really a recommendable invention of Lava with a 3.2 mega pixel camera coupled with a 2.6-inch screen and social media applications. Along this there is an additional privacy setting to lock SMSes and pictures.
The estimation has been made that around five-six lakh units are to be sold in the January-March quarter and regarding an annual growth, it is of 20-25 percent.
The next plan of company is to launch another handsets with its mutual benefits that arising out of strength. And the company has also plan for its tablets which estimated to be priced between Rs 5,000-6,000.